You are not free porn
Dear girls . . . lovely, beautiful tween and teenage girls,
You are not free porn.
I know you want the boy to like you, but his attention does not mean you should take naked pictures of yourself and send them to him. That won't make him love you. It just makes you free porn.
He asked and you said no. Good. So what if he keeps asking? Asking over and over again simply means he is persistent. Seven or seventeen or seventy requests later, let me check . . . Are you free porn? Nope. So don't take the photo. Say no—and stick to your no.
Are you lonely? Maybe. But that still doesn't make you free porn. It just makes you lonely. It's okay to be lonely. It's not okay to be free porn. Is loneliness hard? Absolutely. But loneliness isn't forever. Nudes on the Internet are. (I know Snapchat is supposed to delete photos. They don't. And it takes fewer than ten seconds to screenshot your photo.)
Do not—do not, do not, do not—give into the temptation to think your value to this world is based on how sexually appealing you are, on the number of guys who want to see your naked pictures. This does not make you powerful. It actually makes you powerless because you become dependent on boys' approval. The guy who says nice things about you but treats you as free porn is simply using you. A guy who loves and respects you as the beloved, intelligent child of God that you are will not take advantage of you that way.
You have a whole big amazing life in front of you, and being free porn will not help you achieve any of it. Your heavenly Father hand-designed you so you could do good works that he has prepared for you. That's a far higher calling than taking naked selfies.
For those of you who are about to argue and say, "It's my body, and I can do what I want!"
False.
"You are not your own; you were bought at a price. Therefore honor God with your body" (1 Corinthians 6:19,20).
Stay strong! As hormones are messing with your mind, as you watch other girls becoming official with their boyfriends, and as you feel like the only one who might never be loved, you might still feel tempted to take that picture.
I get it. I was the lonely girl who cried in private because it seemed like everybody else got asked out. (I was wrong. Lots of other girls didn't have boyfriends either, but it didn't feel like it at the time. So I'm super thankful the selfie temptation wasn't even an option!) You know what I wish? That instead of feeling I was less valuable because I didn't have a boyfriend that I believed the truth of what God says about me, which is the same thing he says about you. God says you are more loved, valued, and appreciated than you can even imagine. He calls you beautiful and strong. He has given you power and strength to influence and change your world. He loves you and promises to never, ever leave you. And his love for you is not based on what you do for him. It's based on what Jesus has done for you.
So . . . dear precious, loved, beautiful tween and teenage girls,
You are not free porn.
You are incredible.
You are priceless.
You are God's masterpiece.
P.S. If after reading this you're feeling guilty because you've let yourself be free porn in the past, know that your past does not define you. Jesus has defined you. By never making a single stupid decision with regard to the Internet (or anything else for that matter) and then dying on a cross for the times you've made mistakes, he has made you holy. You—yes, you!—have been set apart for God's purposes.
Another P.S. (because I'm a mom and moms are never really finished telling you stuff). If someone does ask you for free porn, tell an adult. Will they freak out? Maybe a little. But tell one anyway. Pick an adult whom you trust to listen to you and help you. Do it for yourself, because sometimes you'll need their help to say no. Do it for him, because this is illegal and could end very, very badly for him. Do it for the other girls who might be tempted to say yes and end up filled with hurt and regret.
We've created this jpg image for you. Feel free to put it in your photo stream, use it as your cover image or lock screen. Post it on Instagram so everyone knows. Whatever you need to do to remind yourself.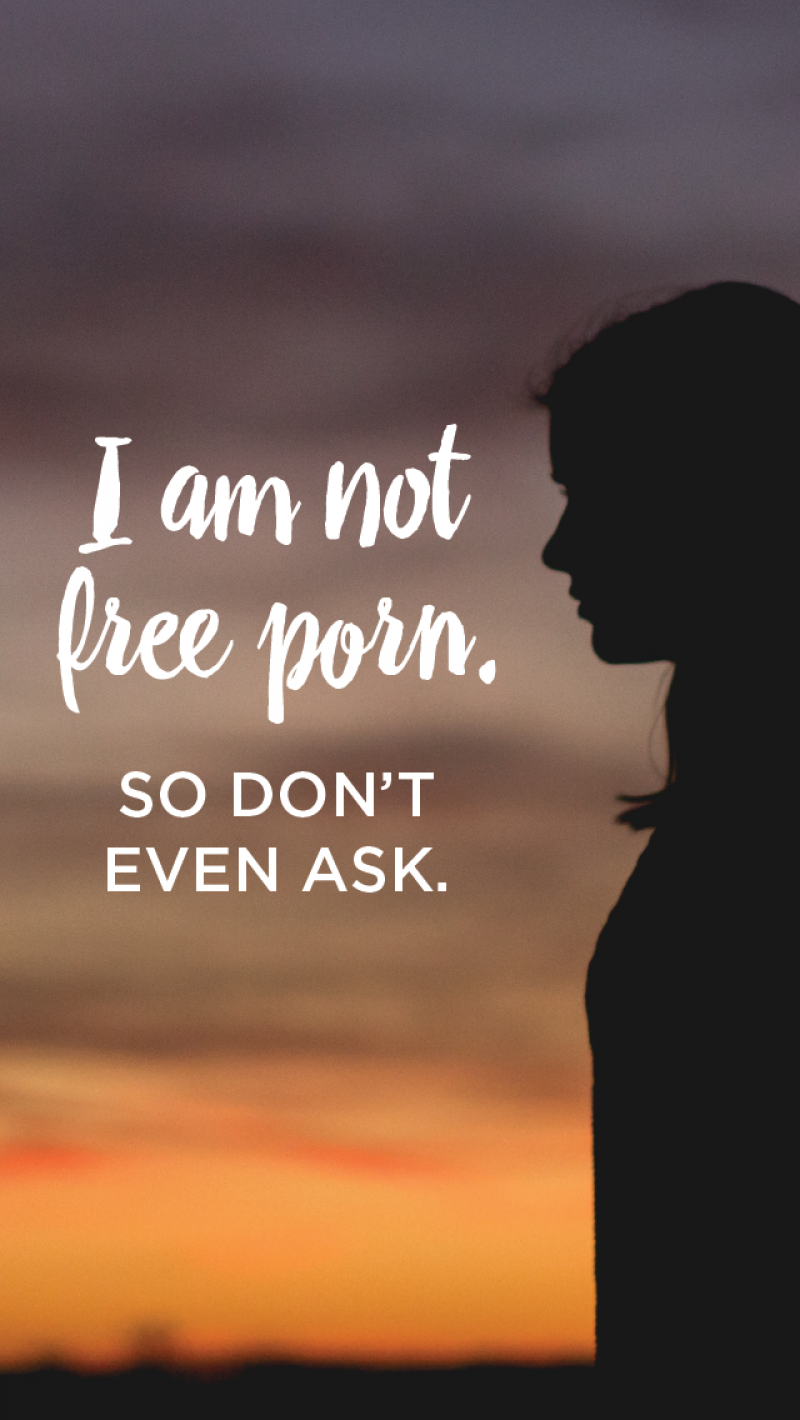 Linda Buxa is a writer, Bible study leader, and retreat speaker. Because she has two teenage daughters, this topic has become one of her newest soapboxes. One of her daughters, who loves to keep in touch with her friends via texting and Instagram, helped brainstorm, write, and review this post. The other daughter really doesn't care about Instagram or texting. Hallelujah!